This website is like a great and reliable soldier.  I never wanted to retire this old warhorse because it has served me well for so many years.
But technology marches on and I have a lot of renovating to do.  Due to the following fortuitous circumstances and saving my day job's per diem checks, PaganChaosMagic.com is getting a whole new look:
I purchased lifetime rights to produce and publish anything I can create with Transparent Corp Brainwave Entrainment Software.  I was fortunate that I have a business use for it elsewhere, but to get the right to distribute any tracks I needed to purchase a personal lifetime membership.  PCM benefits as a consequences of that purchase.
For the same project and other for-profit projects, I purchased the Ithemes.com Developer Package (which includes the Builder WordPress Template, all themes, all plugins)
So the wonderful fallout of all of the above is that this website is going to undergo MAJOR renovations.
When we are done, you won't recognize this place.  And we will be able to incorporate more Brainwave Entrainment in future podcasts.
And yes…I am working on the next episode.  Swear to Eris!  I have the abstract completed already.  Now to get some quiet time to record…
And yes…I will put in a proper set of Blogroll Links.  I have been lazy.  There are plenty of links to awesome resources like runesoup.com that I am long overdue for putting together.
Before the big shift, you will notice more and more of the old MP3 feed episodes switching over to the Libsyn feed.  Every episode since 19 has been served from the Libsyn feed, so I am going to finish off loading the old podcasts to the high bandwidth servers of Libsyn and give my own server a rest.
The cool side effect of all this is that once again, the entire library of episodes will be downloadable from ITunes.
It always amazes me to see people still downloading my entire catalog of podcasts.  You people rock!
When I go to research news and current events in the Pagan community at large, I start at the Wild Hunt. I could talk all day about how awesome this endevour is or how cool Jason is to consistently achieve a high level of professional journalism I can't find elsewhere. But better just to show you.
Help out a Pagan Enterprise that refused to sell out and refused to be manuevered into selling out for cheap spikes in traffic.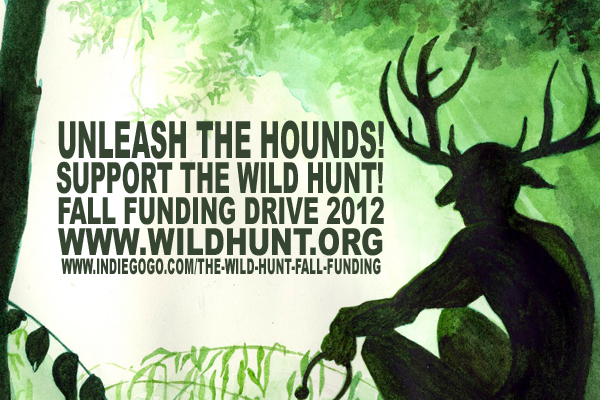 Drop by this podcasts Facebook page and give it a Like if you want to here more yakking.
But I do warn you, that I am just another opinionated twatwaffle on Facebook. On many occasions I have acidic, sarcastic and even (when the occasion calls for it) out-right rude comments that I make. I plead the Passion and Imperfection of the Human Condition. (Yeah! I have philosophical justification for calling you a Mofo!)
You are both Invited and Warned. All email hating will be read and gleefully ignored.
LOVES TO YOU ALL!
Holy Bovines!  Andrieh Vitimus is having a content for a free pass to his Reality Manipulation Boot Camp this May 28, 29 and 30th AND his recently announced Advanced Reality Manipulation Boot Camp in July!  (Plus an extra bonus if the video wins the contest.)
This is a HUGE prize that combined costs $575 dollars this year.  (This year he has reduced the price so that more people can afford it during this tough economic patch.  Next year the price is likely to go up.)
BTW, I am not getting any kind of financial interest from promoting Andrieh's Boot Camp.  I just seriously believe he is legitimate and can train you to work powerful changes in your life for the better.  His interview on the podcast was also heavily complimented by the listeners and I ALWAYS pay attention to listener feedback.
So what is this contest?  To quote the Facebook posting:
Has Hands On Chaos Magic changed your life?
Using the Techniques to get mad results?
Want to give back after being in some of the most life changing rituals that Andrieh does?
Andrieh Vitimus is on a contest roll and he's got an amazing contest opportunity for you!
Are you great at creating or editing videos?
Do you want to go to Andrieh Vitimus's Boot Camp, and go to the Advanced Boot Camp in Late July?
Thats over $575 bucks worth of hardcore magical training, folks!
The bottom line: Andrieh needs a book trailer for ForeWord Magazine. A book trailer is a video advertisement for a book that employs techniques similar to those of movie trailers. They are circulated mostly online in common digital video formats. Book trailers can be acted out, full production trailers, flash videos, animation or simple still photos set to music with text conveying the story.
You can view a non-fiction book trailer example here:
Contest Rules:
Contest runs during the month of April, ending at Midnight EST on April 28, 2010.  At that time, the PR staff commitee will decide which video will be used.
Andrieh Vitimus will be making a video for this as well, and you will be competing against his video editing skills. Mind you, he is a great magician, but not a great videographer.
If your video is selected for use, we will be submitting it for ForeWard Magazine, and you will get the boot camp tickets.
The video will be listed in the contest under 'Andrieh Vitimus' and you must put http://andriehvitimus.com in the video. (Preferably prolifically)
The Video must have at least one picture of the cover of 'Hands On Chaos Magic'.
You must email andriehvitimus@gmail.com with the url to the uploaded YouTube Video
Book trailers may be no longer than three minutes in length.
More than one trailer may be entered for a title, but each video should be unique.
Any trailer containing offensive, profane, inappropriate, or hateful content will be removed.
The maker of the book trailer video is responsible for all materials within; any copyright infringements will result in disqualification.
The submitted video will be shown at Book Expo America in New York City at the Indie Press Lounge hosted by ForeWord Reviews. (Yes if the video wins the Magazine contest I get the Ipad which I can use, but I will personally give you a slightly used Ipod 160GB)
Talk a little bit about Jesse Miller, his music and his Mystic Mind Podcast.
The Mystic Mind Podcast
Jesse Miller Music
Conversations about ConVocation 2010 and some vendors:
PaganPresence.com
SacredSistersStore.com
Mulagens.com
A Chemgnosis segment on Salvia Divinorum:
Daniel Siebert's Salvia Divinorum SIte
Erowid Plant/Chemical Site
Psychedelics Encyclopedia, by Peter Stafford
Pharmacotheom, by Jonathan Ott
Pihkal and Tihkal, by Alexander Shulgin
Part 2 of the 2 part interview with Andrieh Vitimus.
Andrieh Vitimus's Official Website
Andrieh's Reality Manipulation Bootcamp PDF
Andrieh's Calendar and Upcoming Events
Music Notes:
Jesse Miller, Oh Goddess
Hungry Lucy, To Kill A King from The Teatime Sessions
Sean Fournier, Holding the Hand of the Hurriciane from Oh My
Eluveitie, The Arcane Dominion from Evocation I: The Arcane Dominion
PeerGynt Lobogris, Devil's Temptation
Podcast: " class="powerpress_link_pinw" target="_blank" title="Play in new window" onclick="return powerpress_pinw('649-podcast');" rel="nofollow">Play in new window | " class="powerpress_link_d" title="Download" rel="nofollow" download="iframe>">Download
Ah well.  2009 was not the Year of the Pagan Podcast at the Podcast Awards.
GO WIGGLIAN 2010!!!